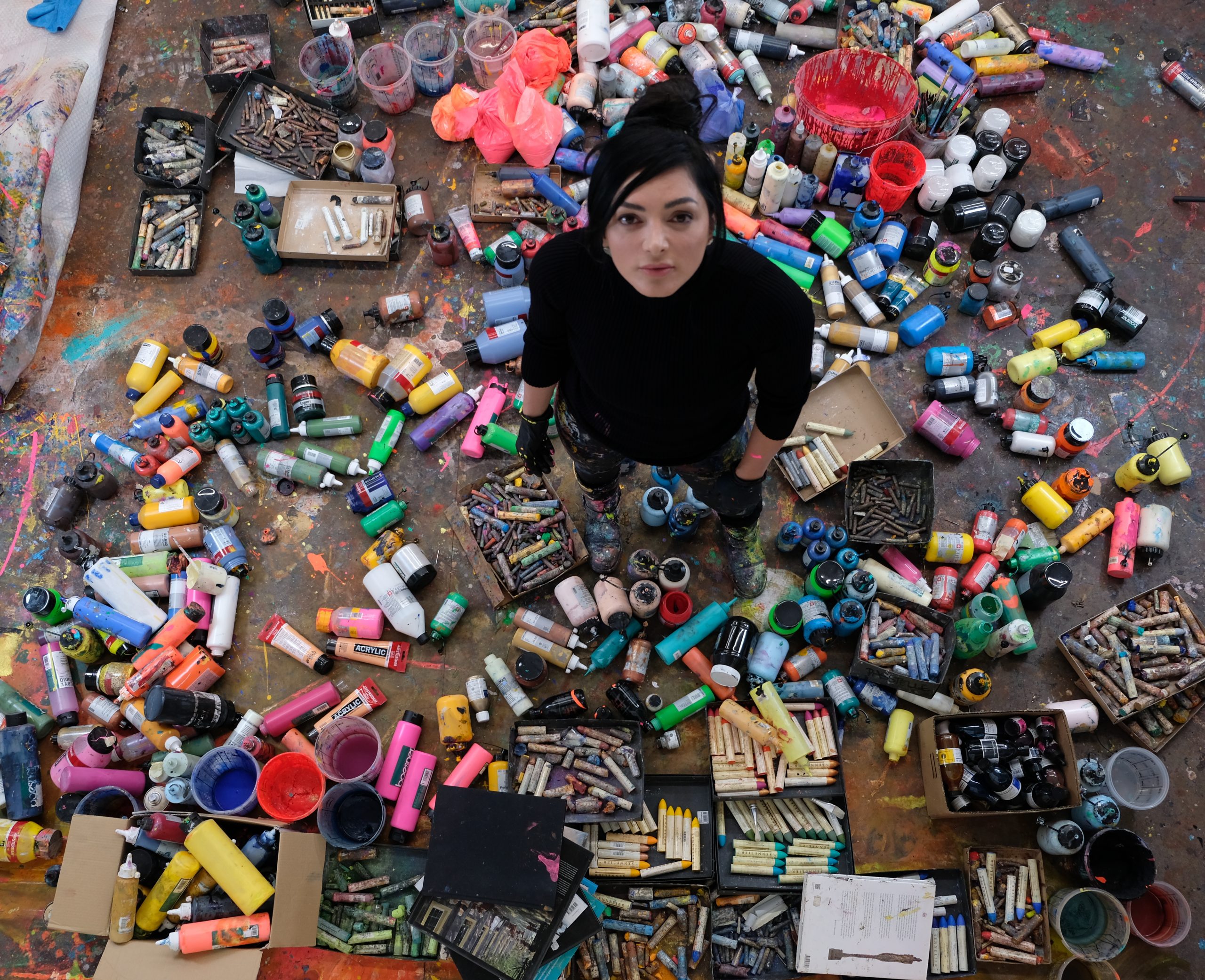 Those who love me, walk with me."

Meral Alma goes her own way. Even in painting, she does not make common cause with whatever art movement is currently in vogue—photography, for example, performance, film, or action art. Impartial and curious, she opens windows onto the world…

Dr. Christiane Hoffmans (art historian and cultural journalist)
Meral Alma holds a master's degree from the Faculty of Philosophy at Heinrich Heine University, where she is currently completing her dissertation. She studied Fine Arts at Düsseldorf Art Academy between 2010 and 2018. The academy awarded her its distinguished Förderpreis scholarship in 2014 and 2015. In 2017, Meral Alma was appointed a master's student under Prof. Siegfried Anzinger. She graduated in 2018. Recent years have seen her participate in more than 30 solo and group exhibitions in Germany and abroad, including those at Museum K21, university buildings, municipal galleries, and Deutsche Bank.
Circus of Life, a cycle of works begun in 2017 and consisting of a total of four acts so far, has been shown to nationwide acclaim in Germany. The fourth act has framed two building portals on Bahnhofplatz Süd in Karlsruhe since October 2020.
Work by Meral Alma has been permanently installed in a lecture hall at Heinrich Heine University since February 2021. She is the first female artist ever to do so. The lecture hall and painting are dedicated to the memory of Professor Dr. Selma Meyer, who in 1922 was the second woman ever to be habilitated at a German medical faculty and appointed professor. In 1939, Meyer was forced to flee to New York via London. After the Konrad Henkel lecture hall, adorned with paintings by the Düsseldorf painter and former (Düsseldorf Art Academy) painting professor Ulrich Erben (b. 1940), the new Selma Meyer lecture hall is the Düsseldorf university's second ever to be furnished with a specially-commissioned painting.
Likewise in 2021, Alma became the first female laureate of a fine arts prize awarded by the Düsseldorfer Jonges, a 90-year-old local association—an award with exclusively male recipients up to that point. The two other most recent recipients include Jacques Tilly in 2019 and Tony Cragg, former director of the Düsseldorf Art Academy, in 2017.
In October 2021, she was named to the Advisory Board of the Friends and Patrons of the Düsseldorf Art Academy.
Apart from countless media reports, the work of Meral Alma has attracted the interest of art experts including Dr. Christiane Hoffmans, Dr. Robert Fleck, and Dr. Sabine Heinke. Some have addressed it repeatedly in recent years:
Dr. Christiane Hoffmans, art historian and cultural journalist (Welt am Sonntag, Blau International):
"There is a reason to live—and that is this world… Meral Alma dares a look into a future of universal togetherness. Some might see that as a provocation—I see it as the path to a better world"
Prof. Dr. Robert Fleck, art historian and curator (Vice-Dean of the Düsseldorf Art Academy, former Director of the Bundeskunsthalle in Bonn):
"TO PAINT IS TO MAKE ENERGIES VISIBLE. THAT IS MERAL ALMA'S NEAR EXCLUSIVE FOCUS WHEN SHE IS PAINTING. Countless layers are painted on top of one another, gleam through one another to yield a dense, impenetrable field of figures. The faces and figures that emerge are not casual or random; these are not droppers-by, but specific people she brings to canvas and fuses together. It's this that makes the work so touching in the first place. (…)"
Dr. Sabine Heinke, art historian:
The emotionally charged pictures alma creates through gestures, facial expressions and suggestive colors reflect modern-day human lives […] She is a highly analytical observer of her environment, which she mirrors in a diary-like manner and transforms into painting.
See press reviews, publications, and photos here: